Your WORKDONE Support
Experience smooth and effortless installation and configuration of drives on PowerEdge servers with WORKDONE. Say goodbye to compatibility issues, time losses, and headaches. Our reliable support solutions ensure a hassle-free setup, allowing you to focus on what truly matters – your success today. Get the job done right with WORKDONE.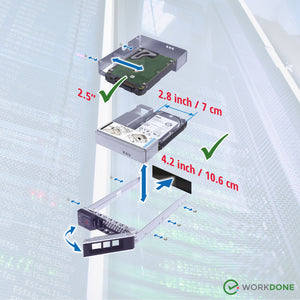 DRIVE CADDY CONFIGURATOR:
Select your preferred Dell server model and indicate the physical size of the hard drive.
Our intuitive configuration program will automatically detect and recommend a compatible drive caddy to your specific server model.
START NOW
Find your server caddy with Dell part numbers:
---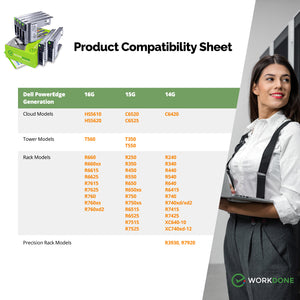 GET COMPATIBILITY SHEETS:
Introducing our comprehensive compatibility sheet designed exclusively for you. Get a clear and concise overview of Dell PowerEdge servers and PowerVault models in one convenient table.
Here's a valuable tip: keep in mind that the same server model often comes with two different drive bay sizes. It's crucial to determine the size of the Drive Bay in addition to the server model to ensure the perfect fit. Don't settle for guesswork—make an informed decision. Learn more about this topic in our informative blog post. (täältä laita linkki)
Download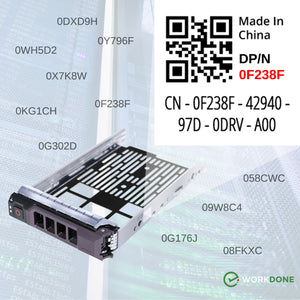 SEARCH WITH ORIGINAL DELL PART NUMBERS:
Discover the perfect product effortlessly using our innovative tool, designed to seamlessly match Dell's original product numbers.
Wondering where to find the product number?
For older Dell models, simply locate the small sticker featuring the product number. In the latest 16th-14th Generation models, the product number is stamped on the side of the drive caddy frame.
Search Now
Read more:
---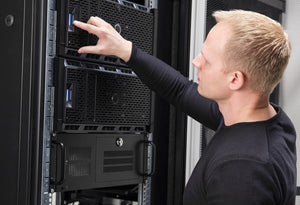 Serial ATA (SATA):  These are the basic hard drives in Dell PowerEdge servers. These have a few advantages over the older parallel ATA, including reduced cable size and cost, native...
With so many different server models, who has time to be an expert on all of them? There are fifteen generations of Dell servers, and approximately 265 individual server models....
Fortunately, checking the size of your server's hard drive bay is a relatively simple process. As a server administrator, one of the most important things you need to know is the...
Download the FREE e-book:
Dell PowerEdge Servers: 5 Hard Drive Installation Issues and Solutions.
This comprehensive e-book delves into the five most prevalent challenges that may arise during the installation of hard drives on your Dell server. It addresses these issues in detail, providing valuable insights and practical solutions.
Our esteemed clients have eagerly awaited this resource, designed to assist them in troubleshooting, enhancing efficiency, and accomplishing their tasks with ease.
Download